To identify the path to your innovation, in harmony with life
Oncodesign is a technical and scientific company whose raison d'être is the innovation that makes it stand out. Our innovation stems intrinsically from our vision, from the way that each individual looks at things. Technological innovation is based on a set of knowledge and technologies which, in combination, answer a new question and create efficiency and therefore growth for customers and partners.
Our innovation model has 3 strategic axes that, together, form our precision medicine platform:  Experimentation, Discovery and Etiology. These axes define our strategic innovation platform.
These three areas are based on connected and innovative technologies that can identify the most relevant targets, design the best therapies with their biomarkers and select the most suitable drug candidates.
This continuum of innovative drug discovery is made possible by applying our collaborative policy, through commercial consortia, acquisitions and strategic technological projects, the creation of centers of excellence and dedicated campuses. We need to innovate to be fully effective.
Oncodesign Innovation place
Our strategic development choices over the next 5 years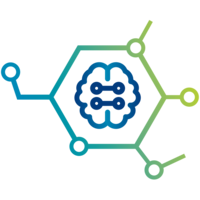 AI is the key technology that will ultimately support our innovation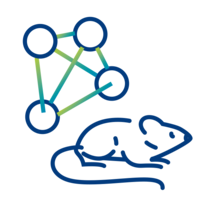 The Drug Discovery process is how Oncodesign stands out in the preclinical services market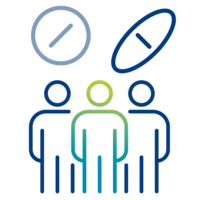 The development of our clinical drug candidates, particularly in oncology, is our ultimate purpose
Oncodesign addresses an ever-growing need for innovation in the healthcare industry. Oncodesign identifies new pathways, establishes strategic connections for therapeutic innovation, and guides its own developments and those of its customers in a patient-centered approach.
Our technological innovation is the foundation of our precision medicine
Technological innovation is at the heart of the Oncodesign model: the strategic Study, Discovery and Experimentation activities, designed and carried out by Oncodesign, contribute to a better approach to congenital and acquired treatment resistance, to more effective treatments, and to the reduction of treatment failure:
Etiology of the causes behind the diseases,

Discovery of new therapeutic target/molecule pairs,

Experimentation with new treatments.
This unique innovation model makes Oncodesign a biopharmaceutical company capable of generating knowledge about patients and their diseases and choosing effective therapeutic solutions, in order to guide its research and that of its customers right from the start by offering services, partnerships and licensing. 
For Oncodesign, there is no such thing as a good or bad molecule, since all have their own potential, properties and targets which determine how they are used – there are only molecules whose application must be found.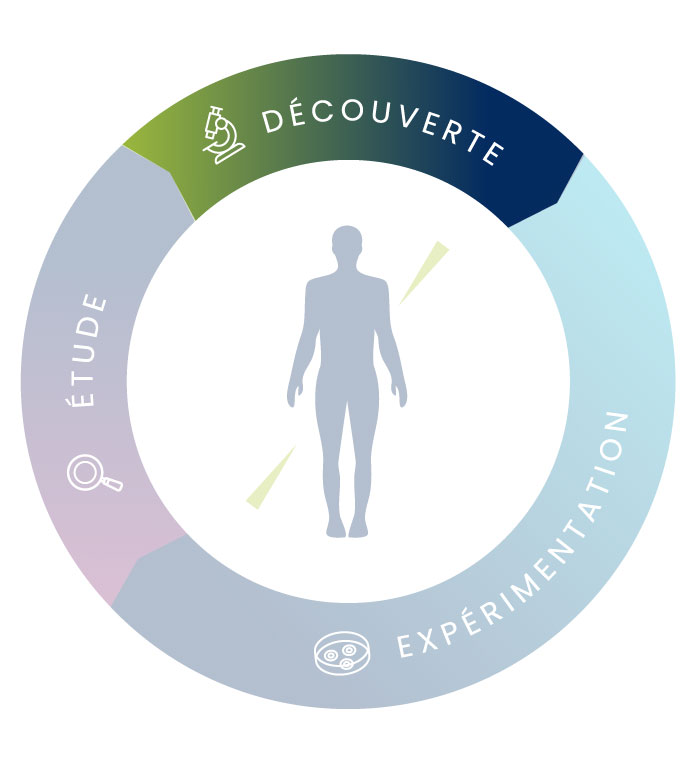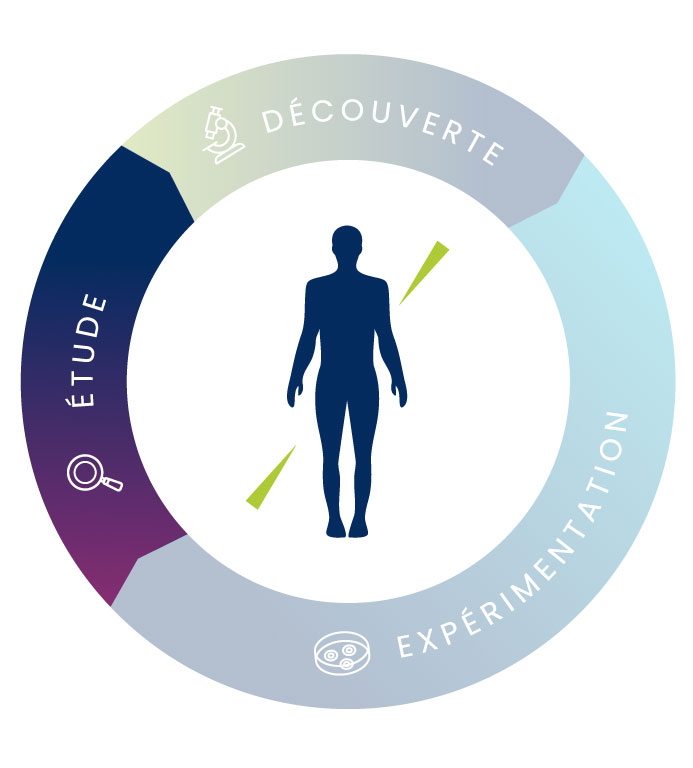 Discovery: designing the best treatments
Oncodesign is investigating new research avenues to discover innovative and effective drugs and biomarkers.
Oncodesign's Discovery activity meets the needs of characterizing, targeting and configuring molecules. It was based initially on the Nanocyclix® medicinal chemistry module and the expertise of a group of highly experienced medicinal chemists. 
The related biomarkers are radiotracers, small and very specific chemical molecules derived from Nanocyclix, labeled with radioactive F18. This innovative approach makes it possible to detect the target in tumor tissues with the help of a PET scan, and to show that the chosen treatment is specific to this target.
For the past 5 years, Oncodesign has built a new technology platform dedicated to systemic targeted radiotherapy (STRT), which makes it possible to develop theranostics. The targets are mainly membrane-based and address very specific radiolabeled biological vectors (a, b, or g, depending on use). 
Oncodesign guides its drug candidate optimization programs with a modern approach to medicinal chemistry, based on rational design, physicochemistry, pharmacokinetics and metabolism.
Oncodesign offers programs to discover new drugs and biomarkers in partnership or under license using the Nanocyclix and STRT technology modules, which include radiotracers, as well as an integrated service offering (DRIVE-SM, DRIVE-STRT, DRIVE-Biologics).
Since 2021, Oncodesign has implemented in-licensing operations within its "Homing" corporate business activity to identify new pre-candidate molecules very early on and integrate them into its Discovery process.
Experimentation: selecting the best drug candidates
Oncodesign's Experimentation activity involves preclinical and clinical proofs of concept for new treatments in order to select effective drug candidates. It is built on the following technology modules, which are powerful drivers of innovation:
T.O.T (Time on Target): Streamline the choice of therapeutic direction for your projects by qualifying the potential of your molecules and your in vitro targets.

PREDICT: Select the best drug candidates and their biomarkers using our expertise in pharmacology

Chi-Mice: Access our humanized models for faithful reproductions of the target disease: PDX, in vivo humanization of tissues from human stem cells,

Pharmimage: Visualize the effect of treatments and integrate our expertise in multimodal pharmaco-imaging into your preclinical and clinical projects.
Study: identifying new therapeutic targets
Oncodesign's strategic "Study" activity consists of identifying and validating new therapeutic targets at the preclinical stage by characterizing sub-populations of patients refractory to cancer treatment!s. As part of this strategic activity, Oncodesign selects new therapeutic targets that become the starting point to effectively guide research and pharmaceutical development. The "Study" activity also allows the development of molecular diagnostic and prescription assistance tools for healthcare professionals in order to achieve better patient care. The "Study" activity therefore ultimately reduces treatment failure rates.
For the past 10 years, we have made significant investments in the development of the OncoSNIPER technology module, through the IMODI (2013) and OncoSNIPE® (2016) projects.
They enrich Oncodesign's offering of services and partnerships in the following ways:
By characterizing cohorts of patients who are resistant and/or unresponsive to treatments and identifying associated therapeutic targets to guide the discovery of new precision therapies in oncology,

By analyzing data obtained from patient care to support the diagnosis of resistant diseases for healthcare facilities,

By analyzing data from clinical trials in order to stratify subpopulations of patients resistant to cancer therapies.