Selectivity and exceptional potency against kinases
Oncodesign's current internal portfolio is based entirely on Nanocyclix® technology. These programs are highly innovative and cover first-in-class and best-in-class opportunities in several therapeutic areas. Discover our portfolio of R&D products Our activated EGFR PET tracer successfully obtained proof of concept in a phase I study. The program is now ready to move to a larger phase II/III validation study. The RIPK2 program identified ODS-101, which is expected to enter clinical trials in 2022, as well as fast-followers and a back-up chemical series. RIPK2 inhibition represents a first-in-class opportunity as an innate immune system modulator and has potential in chronic inflammatory bowel disease (IBD) and other inflammatory and autoimmune conditions. LRRK2 is one of the few Parkinson's disease targets with potential for disease modification. It is notoriously difficult to find appropriate inhibitors for this target. Our program, in partnership with Servier since 2019, is progressing toward IND. MNK1/2 is a potential immuno-oncology target kinase involved in translational machinery. Our program is currently in the advanced phase of lead optimization.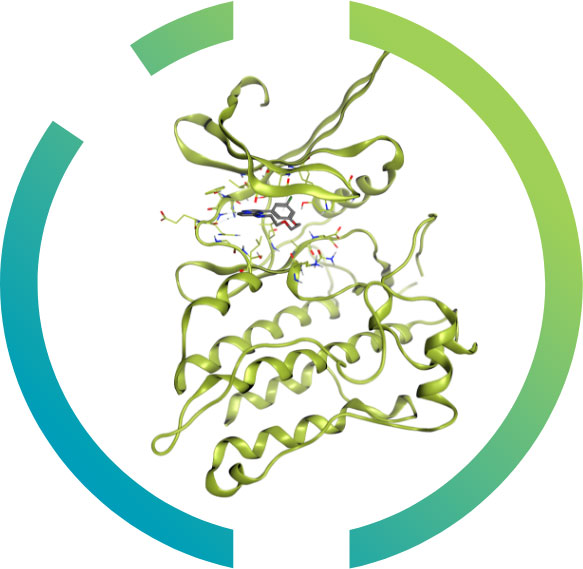 EGFR
The diversity of Nanocyclix®
Our chemical diversity has led us to identify Nanocyclix® probes with high potency, selectivity and specificity against the epidermal growth factor receptor kinase (EGFR).
Qualifying and guiding the probe
EGFR is an established target for the treatment of advanced non-small cell lung cancer (NSCLC). EGFR kinase inhibitors are a standard treatment for tumors with an EGFR mutation (e.g., an L858R mutation). The majority of patients develop resistance to EGFR inhibitors within one year, which is mostly (> 50%) linked to an acquired EGFR T790M mutation. There is therefore a need to develop a diagnostic tool to determine and predict EGFR activity (wild and mutated) as well as the sensitivity of EGFR inhibitors to adapt treatments and monitor patient response.
Probe to lead, lead optimization and preclinical development
We took advantage of our pharmaco-imaging platform to optimize our probe and labeled our drug candidate with 18F. In preclinical imaging tests, our radiolabeled drug candidate (Florepizol) showed a major signal in xenografted mice that had tumor cells with activated forms of EGFR (L858R and T790M mutations), whereas no signal was observed in xenografted mice that had tumor cells with wild-type EGFR.
Phase I success
Florepizol was evaluated in a phase I clinical trial (NCT02847377) in 13 patients with either wild-type EGFR or mutated EGFR to determine the ratio of the standardized uptake value (SUV). Florepizol allowed primary tumors and metastases (including brain metastases) to be detected with a significant SUV ratio in patients with activated forms of EGFR.

The Florepizol program is available for licensing and/or partnership to move forward to a phase 3 trial.
RIPK2
Nanocyclix® Diversity
The RIPK2 program was initiated following the identification, through our chemical-based approach, of Nanocyclix® probes targeting the receptor-interacting serine/threonine-protein kinase 2 (RIPK2).
Qualifying and guiding the probe
RIPK2 is a key component of signaling complexes for innate immune receptors and contributes to NF-kB-induced inflammatory signaling pathways. RIPK2 is recruited by NOD1/2 following stimulation by bacterial components, thus promoting inflammatory signaling pathways. NOD2 gene variants and mutations are involved in inflammatory diseases such as Crohn's disease, ulcerative colitis, Blau syndrome and early sarcoidosis.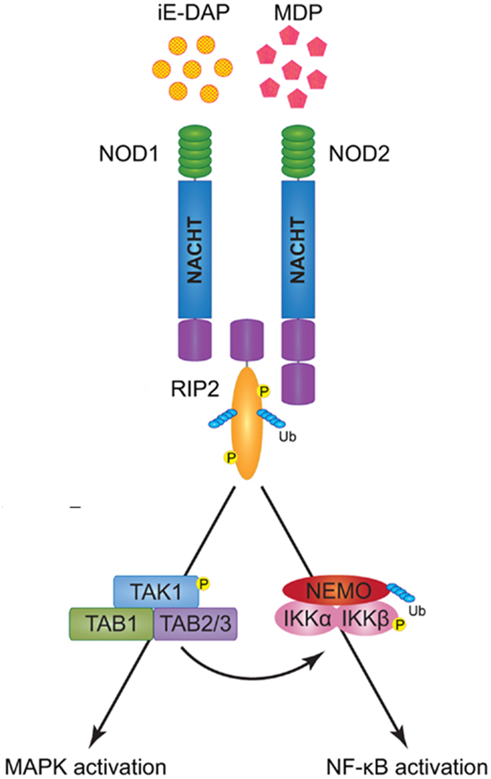 Probe to lead, lead optimization and preclinical development
A strategic effort was made to optimize the initial probe, which led us to identify ODS-101, our current candidate. ODS-101 has significant preclinical activity in humanized colitis and immunotherapy-induced colitis models. In the PK/PD (pharmacokinetic/pharmacodynamic) and DRF (dose range finding) tests in monkeys, we observed full target engagement at doses with a significant therapeutic margin compatible with oral administration in humans.
We are strengthening the preclinical file with new studies to further investigate certain data.
Phase 1 in healthy volunteers will be organized and funded by Oncodesign in 2022.
Because ODS-101 acts as an immunomodulator rather than an immunosuppressant, this program represents a prime opportunity to treat acute and chronic inflammatory diseases with less toxicity than current treatments.
Our RIPK2 program, which includes fast-followers and a back-up series, is available for licensing.
LRRK2
Under licence

Nanocyclix® Diversity
Through our chemical diversity approach, we identified leucine-rich repeat kinase 2 (LRRK2)-targeting probes with potency, selectivity and a development potential for the drug.
Qualifying and guiding the probe
LRRK2 activating mutations are associatie with familial forms of Parkinson's Disease (PD). Activation of LRRK2 is also seen in sporadic forms of PD. LRRK2 inhibition therefore represents an opportunity to treat patients with PD.
Preclinical development
We are working with Servier since 2019 to bring a Nanocyclix® based LRRK2 inhibitor in the clinic. In June 2021, we jointly selected our first candidate, anticipated to enter Phase 1 in 2022. CMC and regulatory tox are currently ongoing.
MNK1/2
Nanocyclix® Diversity
Our chemical-based approach using our Nanocyclix® technology has led us to identify probes targeting MAP (mitogen-activated protein) kinase-interacting serine/threonine-protein kinases 1 and 2 (MNK1/2).
Qualifying and guiding the probe
MNK1/2 regulate translational machinery by activating eIF4E, an effector downstream of the PI3K/Akt/mTor pathway, which is frequently activated in human cancers. The MNK1/2 pathway is activated under stressful conditions and is associated with resistance to rapamycin derivatives. MNK1/2 are also involved in immunomodulation, suggesting that MNK1/2 inhibition could have an impact on tumor progression across a wide range of cancers through direct anti-tumor activity and immunostimulation.
Probe to lead and lead optimization
We are currently developing the series through a lead optimization phase. Our main compound has been tested in preclinical models. A dose-dependent response was observed in a PK/PD mouse model, in line with the predicted eIF4E inhibition. In xenografted mice with CT26 syngeneic tumor cells, we observed a significant decrease in tumor growth following oral administration of our primary compound alone and an additive effect when combined with an anti-PD1 agent.
The MNK1/2 program is available for licensing and/or a partnership.
Development projects for your molecule?