At this stage, OPM encompasses the strategic Discovery and Study activities, as well as all related assets and skills. The strategic Experimentation activity is mainly covered by Oncodesign Services (ODS).
OPM aims to move two drug candidates on to clinical trials by 2023.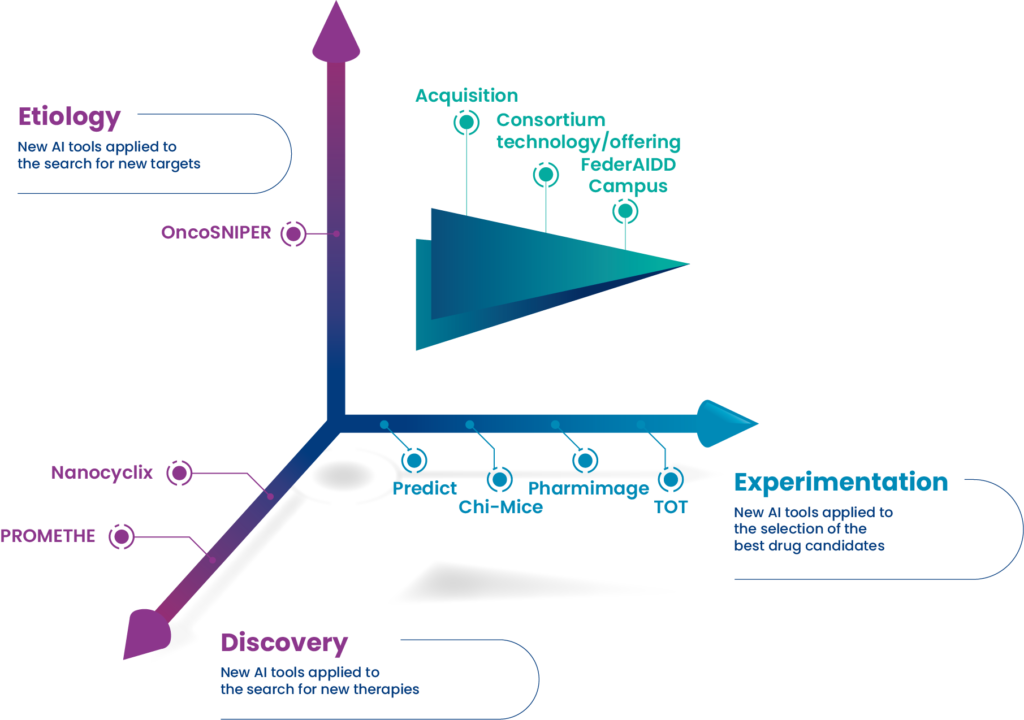 The RIPK2 programme will be our main investment priority over the next two years. It generated a drug candidate in late 2019, which is due to enter the clinical phase on Healthy Volunteers in December 2022. Drug candidate ODS-101 is primarily intended for the treatment of immune-mediated inflammatory diseases, and notably IBD. RIPK2 is a kinase with an interesting scientific rationale as a therapeutic target in oncology, and as such, an exploratory programme is currently underway.
OPM also has a strategic partnership agreement with the Servier group for the research and development of a drug candidate for the LRRK2 target against Parkinson's disease. In June 2021, Servier and Oncodesign chose a drug candidate, and Servier announced that this compound would enter clinical development in 2022. As part of this agreement, leading up to 2022, Oncodesign received €15.5 million in payments made up of upfronts, milestones, and research costs. In September 2022, OPM received payment of a €7 million milestone for the compound entering clinical trials in October 2022, and will receive up to €320 million in milestones, excluding royalties, of which €37 million may be received by OPM between 2022 and 2028.
The systemic radiotherapy agent discovery programme is in a position to deliver pre-candidates in oncology as of 2023. Once a development partner for Florepizol has been identified, the anti-EGFR radiotracer programme can enter phase III with the aim of hitting the market within two years.
Two advance partnerships were signed at the end of 2021 with the US company SEngine (oncology) and the Korean company TiumBio (pulmonary fibrosis) for molecules derived from Nanocyclix®, under the OPM portfolio.
Over the past 10 years, we have accumulated a lot of experience in the design and selection of systemic radiotherapy agents through the Pharmimage platform, and over time, Oncodesign has become an important player in the evaluation of theranostic tools. In 2019, we decided to enrich our therapeutic approach in oncology based on these new highly promising agents, and in the context of metastatic disease in particular.
We have explored several new technologies, and are in advanced discussions with a European drug vectorisation company. They master technology from lead design to industrial production. The molecules used are small in size and have the same affinity characteristics as antibodies, with different pharmacological properties that would ensure lower toxicity. We wish to form a joint venture based on several projects using our targets and the Pharmimage platform. We have chosen to construct an original pipeline of molecule-radio conjugate candidates in oncology over the next three to five years.
Drawing on our collaborative OncoSNIPE® PSPC [a french government granted R&D program] launched in 2017, we created an AI team and developed a platform for identifying and validating new therapeutic targets in oncology, known as OncoSNIPER.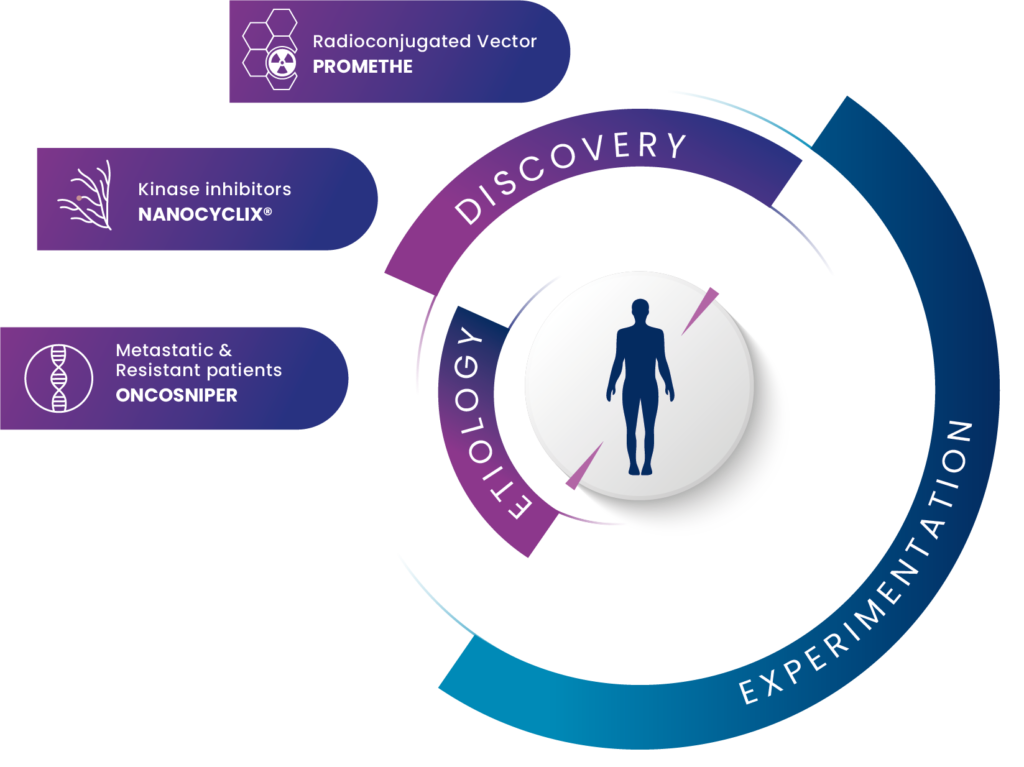 We chose a collaborative approach regarding the application of AI to other segments of the Drug Discovery process, and created the international FederAIdd Open Innovation Campus in collaboration with the Servier group and Intersystems (Saclay/Montreal) in 2022.
A structuring research partnership – STarT Pancreas – was signed in September 2022 with Servier, with the aim of finding new therapeutic targets associated with pancreatic ductal adenocarcinoma. This partnership resulted in the first revenues produced by our new target selection technology (upfront of €0.5 million).
In conclusion, OPM's technological platform is based on three important technological modules: OncoSNIPER, Nanocyclix®, and PROMETHE. The combination of OncoSNIPER with our therapeutic technologies will be decisive in making the right choice for our therapeutic programmes based on Nanocyclix® as well as the vectorisation technology selected.
Philippe Genne | Founder and CEO