Ever-faster growth since our IPO
"Oncodesign has been listed on Euronext Growth Market since April 2014 (ALONC, Paris). Our biggest goal since our creation has been to discover effective therapies to fight cancer and other diseases for which no treatment is currently available. We have built a unique platform of precision medicine dedicated to resistant or refractory diseases.
Right from the start, we at Oncodesign have ensured our technological development through an intense collaborative strategy involving research projects co-financed by public funds, private collaborations and acquisitions, resulting in the equivalent of more than €250 million invested since our creation.
Our market is based on the ever-growing need for innovation in the healthcare industry and the difficulty pharmaceutical companies have in meeting it themselves. Oncodesign's current model is based on our technology platform, so we can provide custom services to our customers as well as approvals for our proprietary molecules.
Following our acquisition of the François Hyafil Research Center from GSK in Les Ulis in December 2016, followed by Bertin Pharma Services in Paris and Orleans in September 2017, Oncodesign merged the functions of these entities and relocated the Bertin teams to the single site in Les Ulis. This was accompanied by the roll-out of a fresh reorganization, as the company increased from a hundred employees in 2016 to more than 232 employees (including 25% PhDs) spread over 4 sites in 3 countries in 2019 (USA, Canada, France).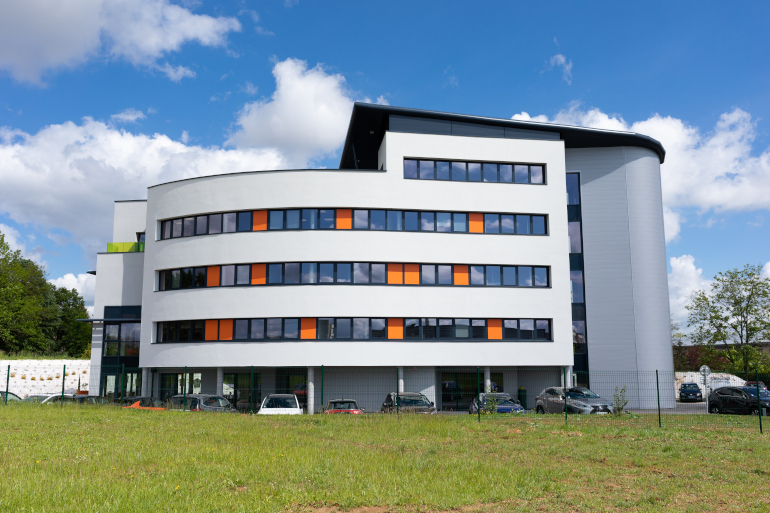 An organization made of independent BUs
Oncodesign is organized into three Business Units (BU): Services, Biotech, Artificial Intelligence. Oncodesign took over a new building next to the Dijon Research Center in December 2020, which is home to Corporate, the Biotech and Artificial Intelligence BUs and junior companies.
Oncodesign's positioning is unique within the landscape of biotechs in France, due to our business model, growth and economic success. At the end of 2020, in the midst of the COVID health crisis, Oncodesign generated revenue of €25.5 million and reached €39 million in operating income with a positive operating result despite an R&D investment of 30% of revenue.
Oncodesign is able to offer a continuum of services in Drug Discovery, starting from the patient data upon delivery of a drug candidate with its IND in Oncology, Immuno-inflammation and Infectious Diseases. In addition to small molecule chemistry, our therapeutic approaches include biologics and systemic radiotherapy.
Oncodesign has more than 1,000 clients/partners across 23 countries, including the 15 biggest pharma companies. We invest in 3 internal Drug Discovery projects on new kinase inhibitors (investment of €12-14 million/year) and lead 2 international scientific and technological partnerships.
With our new Homing project, we at Oncodesign can now select and co-develop relevant projects in Oncology, starting at the pre-candidate stage and providing support all the way up the end of Phase 2a. We have an extraordinary evaluation platform to select molecules that have real potential. Our 25+ years of experience in Oncology give us a defining advantage for this kind of predictive exercise.
Artificial Intelligence: a strategic platform to support the development of Drug Discovery
Artificial Intelligence is the technology we have chosen to drive our innovation over the next 5-10 years. It allows us to create a high-performance platform to find new targets, which is our strategic focus. Study based on the IMODI® and OncoSNIPE® projects. Selecting new therapeutic targets is the first strategic starting point for an increasing number of pharma companies.
The technology should also let us significantly improve reliability and shorten the rest of the drug discovery process (CMC, PD/PK, etc.). To achieve this objective, we have chosen to build a virtual campus dedicated to AI and DD with our partners. This will allow us to bring together the companies responsible for the most advanced technology, create an international Artificial Intelligence sector applied to Drug Discovery between Dijon, Saclay and Montreal, and set up very useful links with universities for R&D and training, among others. This campus will be called "FederAIDD", perfectly in line with the collaborative philosophy of Oncodesign.
R&D technology must allow Oncodesign to maintain its lead in a hyperactive world – these projects absolutely have to be multidisciplinary across all 3 of the BU teams. The annual connection program is a space for innovation and exchange that is essential for the whole group to be able to grow together while carrying out our mission."
Philippe Genne | Founder and CEO