Since opening
Since yesterday
Nombre de titres échangés
52 weeks [low/high]
€ / €
Performances (%)
Share ID
Code ISIN / Mnemo / Reuters / Bloomberg :
/ ALONC / ALONC.PA / ALONC:FP
Listed on:
Euronext Growth Paris
Financial year closing date:
December 31
Liquidity provider:
Louis Capital Markets
Listing sponsor :
Midcap Partners
This website contains data provided by Euronext. This data is provided "as is" for information purposes only without any guarantees. Although all reasonable precautions have been taken to ensure the accuracy of the data, Euronext does not guarantee accuracy or completeness. Oncodesign cannot be held responsible for the use of these data. This information cannot be considered as creating rights or commitments from Oncodesign or any representative company.
Shareholding
A true entrepreneurial project and a rare occurrence in biotechnology, Oncodesign's capital is mainly held by its managers, including Dr. Philippe Genne, CEO and Founder of the company. The interests of management and shareholders remain perfectly aligned.
General Meetings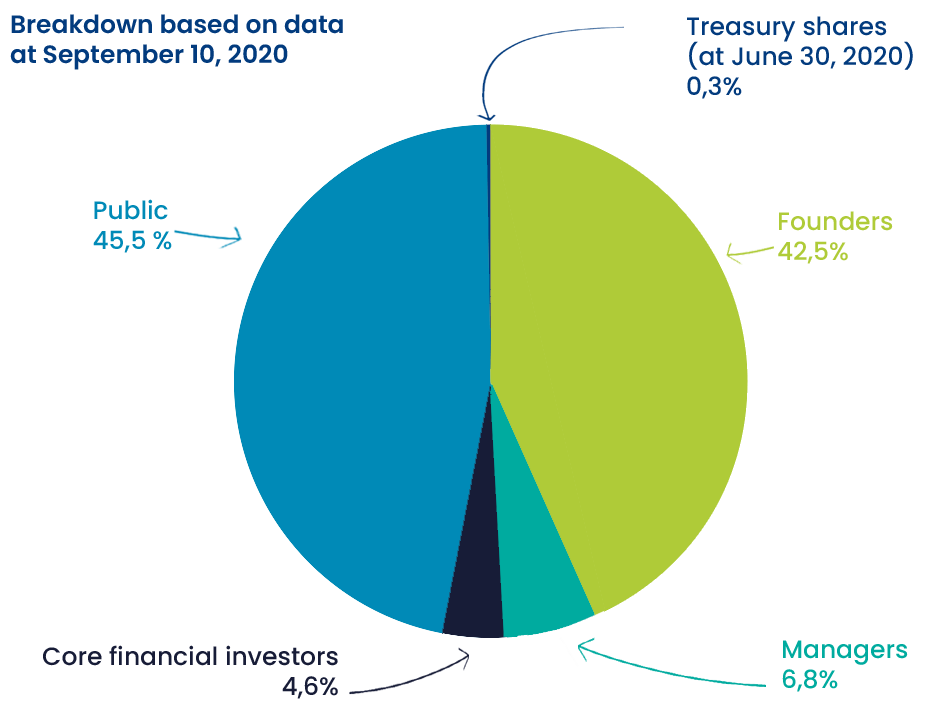 Key figures
| € millions | FY20 | FY19 | FY18 | FY17 |
| --- | --- | --- | --- | --- |
| Turnover Other operating income | 25.5 13.0 | 26.9 12.6 | 20.1 12.7 | 14.3 11.6 |
| Total operating income Total costs | 38.5 (37.0) | 39.5 (38.8) | 32.8 (36.6) | 25.9 (30.3) |
| Operating income Financial expenses and income Exceptional expenses and income Income tax Amortization of negative goodwill | 1.5 (0.6) (0.2) 0.4 1.0 | 0.7 (0.2) (0.1) 0.3 1.0 | (3.8) (0.3) 0.1 (0.0) 0.8 | (4.4) (0.2) (1.2) (0.3) 1.0 |
| net Consolidated Income / Loss | 2.1 | 1.6 | (3.1) | (5.0) |
| Investments in R&D | 10.8 | 11.1 | 12.0 | 13.9 |
| Cash position at 31.12.N | 28.7 | 10.5 | 10.1 | 11.5 |
| Staff | 238 | 233 | 232 | 180 |
Change
| 19/20 | 18/19 | 17/18 |
| --- | --- | --- |
| -5% 3% | 34% -1% | 41% 9% |
| -2% -5% | 20% 6% | 27% 21% |
| +0.8M€ ns 62% | +4.5M€ ns 25% | +0.6M€ ns -20% |
| +0.5M€ | +4.8M€ | +1.8M€ |
| -3% | -8% | -14% |
| +18.2M€ | +0.5M€ | +1.4M€ |
Last updated: 2020
These key figures are updated according to the financial calendar