SOLO-PoC Inflammation: Translational pharmacology to evaluate the efficacy of your products
SOLO Inflammation is part of our translational pharmacology in immunology platform with a wide selection of in vitro models, preclinical in vivo models of inflammation and autoimmune representative of many human pathologies.
Our in vivo models in inflammation: essential predictive tools to evaluate the effectiveness of your molecule
Our chronic, allergic and acute inflammation models.
We accompany you in the study of your targets and new therapeutic approaches in immuno-inflammation. You will have the opportunity to evaluate the preclinical proof of concept of your novel innovative anti-inflammatory mechanisms of action in various pharmacological models ranging from immune modulation, restoration, suppression and stimulation to specific models of injury induced by acute or chronic inflammation in multiple organs.
Our in vivo pharmacology platform offers many models representing the major components of human inflammatory pathologies, such as:
chemically-induced acute injuries, models of fibrosis and chronic inflammation, NASH for liver inflammation
chemically-induced acute injury for kidney inflammation
idiopathic pulmonary fibrosis, bronchiolitis and asthma for lung inflammation
Type 1 or type 2 diabetes
ulcerative colitis, irritable bowel for intestinal inflammation
psoriasis, atopic dermatitis, scleroderma, pruritus for skin inflammation in dermatology
Multiple sclerosis for central inflammation
A typical study design in inflammation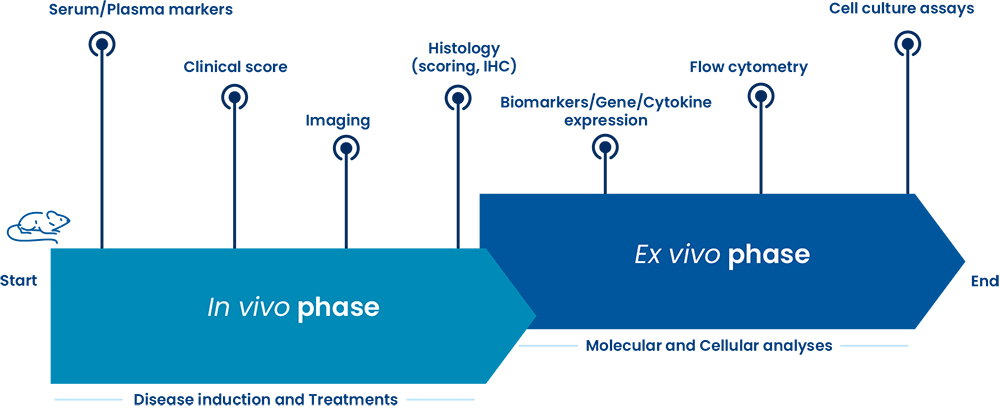 Our expertise in inflammation
You will benefit from specialized and expert support in the design of preclinical studies for the validation of targets, mechanisms of action in vitro and in vivo and anti-inflammatory efficacy. These include analyses such as clinical scoring combined with the evaluation of multiple biomarkers (cytokine profile, gene expression), immunophenotyping of immune populations in flow cytometry and histological analyses of inflamed tissues.